Ardell Lash & Brow Accessories
A well defined eyebrow can be the finishing touch that pulls all of your makeup together. Eyebrows should be properly shaped by tweezing, waxing or threading to achieve the best look. Practice defining eyebrows with makeup before a night on the town so that you can master the look you love. Goodman's carries Ardell eyebrow grooming products including brow sculpting gel.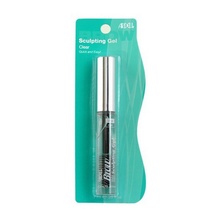 Ardell 65067 Brow Sculpting Gel Clear
ITEM: AL-65067
In Stock
Ardell 65067 Brow Sculpting Gel Clear. Brow Sculpting Gel is a lightweight gel that contours and defines brows while providing all-day hold and conditioning. The precision wand shapes brows beautiful...
Buy discount and wholesale Ardell lashes, adhesives, Ardell lash removers, duralash faux lashes, runway lashes, wild lashes, eyebrow proucts, Ardell wispies, hair color corrector and more. At Goodman's you'll find good products, good prices, and good service!