Bene Casa Kitchen Utensils & Gadgets
A meat grinder or meat mincer is a kitchen appliance for grinding, fine mincing or mixing raw or cooked meat, fish, vegetables or similar food. Goodman's carries a complete line of Bene Casa meat grinders, meat mincers, deli slicers, home meat grinders, grinder meat, sandwich press, sandwich makers, pestles, mojito sets, mojito glasses, oil strainers, orange peelers, citrus peelers and more.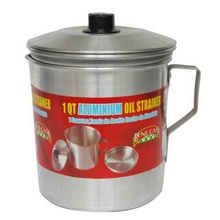 Bene Casa 65119 1-quart Oil Strainer/dispenser
ITEM: BC-65119
Out Of Stock, Pre-Order Now!
This innovative oil strainer stores cooking oil, allowing you to fry food again without waste. Say goodbye to throwing out oil after just one use.<br><br>The strainer works effortlessly to separate im...
Buy discount and wholesale Bene Casa meat slicers, deli slicers, wood mortar and pestles, thermos, coffee thermos, thermos bottles, portable thermos, water pump, hand water pump, food safe water pump, bamboo kabob skewers, food safe bamboo skewers, creamer pitchers, coffee cream pitchers, stainless steel creamer pitchers, travel mug, reusable coffee cup, eco friendly coffee cup, electric sandwich makers and more. At Goodman's you'll find good products, good prices, and good service!