Panasonic Nose Trimmers
Get rid of unsightly nose and hear hair with Panasonic's line of personal groomers. Goodman's carries Panasonic personal groomers, groomers for men, nose hair trimmers, ear hair trimmers and more.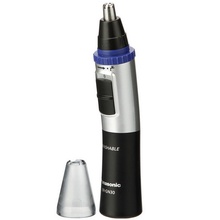 Panasonic ER-GN30-K Ear and Nose Hair Trimmer
ITEM: PA-ERGN30K
In Stock
Panasonic ER-GN30-K Nose & Ear Hair Trimmer with Improved Dual-Edge Blade and Vortex Cleaning System. Using only one hand, immerse the trimmer and water is pulled in from the sides, spun through the...
Buy discount and wholesale Panasonic nose hair groomers, nose hair groomers, ear hair trimmers, ear hair groomers, nose trimmer, nose hair clippers and more. At Goodman's you'll find good products, good prices and good service!