Tweezerman Facial and Eye Tools
Look your best when going out on the town with Tweezerman products. Goodman's carries a large selection of eyelash curlers, skincare tools, esthetician skin care tools, mustache scissors, facial scissors and more.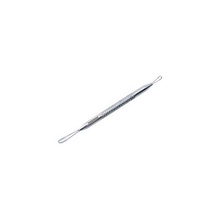 Tweezerman 2742-p No-slip Skin Care Tool
ITEM: TW-2742P
In Stock
Tweezerman 2742-P no-slip skin care tool. Thin angled loop to roll out mature whiteheads and a flat side to gently press out blackheads. Textured body for added control. Stainless Steel.

Tweezerman 2902-p Stainless Facial Hair Scissors
ITEM: TW-2902P
In Stock
Tweezerman 2902-P stainless facial hair scissors. Scissors with sharp blades for precise cutting of facial, nose and ear hair. Blades sweep away from skin with rounded tips for safety. Also excelle...
Buy discount and wholesale Tweezerman procurl lash curlers, skin blemish tool, blackhead tools, whitehead tools, facial hair scissors and more. At Goodman's you'll find good products, good prices and good service!