IMUSA Rice Cookers/Steamers
A good rice cooker can open up the doors to healthy eating and do more than just cook rice. Goodman's carries IMUSA rice cooker, electric rice cooker, brown rice cooker, five cup rice cookers, eight cup rice cookers and more.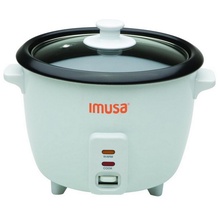 Imusa Gau-00013 Nonstick 8-cup Rice Cooker
ITEM: IM-00013
In Stock
MUSA GAU-00013 nonstick 8-cup rice cooker. The Gaunaurd Rice Cooker makes rice at the touch of a button. The nonstick cooking pot provides for easy cleaning. The cool touch handles are ideal for handl...
Buy discount and wholesale IMUSA stock pot, aluminum steamer, steam pot, steam cooker, seafood steamer, crab steamer, lobster steamer, lobster cooker and more. At Goodman's you'll get good products, good prices and good service!