Hamilton Beach Hospitality
Guests care about the little things. So make sure their room is appointed with appliances that are a pleasure to use. Goodman's carries a large selection of Hamilton Beach hospitality products, coffee makers, odor eliminators, TrueAir general purpose filters, TrueAir Tobacco filters, hotel iron organizer and more.

Hamilton Beach 04230G TrueAir Replacement Filters, 3-PK
ITEM: HA-04230G
In Stock
TrueAir 04230G Replacement General Purpose Filters, 3-PK. Eliminates odors, does not mask them. Specially formulated carbon filter traps and neutralizes common household odors. Breath easier and fe...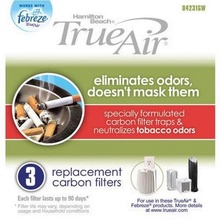 Buy discount and wholesale Hamilton Beach hospitality appliances, Hamilton Beach commercial appliances, TrueAir filters, TrueAir tobacco filters, TrueAir replacement filters and more. At Goodman's you'll find good products, good prices, and good service!