Hamilton Beach Odor Eliminators
Keep the air in your home fresh and odor-free with the Hamilton Beach TrueAir Plug Mount Odor Eliminator. Goodman's carries a variety of Hamilton Beach TrueAir odor eliminator products, TrueAir filters, replacement filters, TrueAir tobacco filters and more.

Hamilton Beach 04230G TrueAir Replacement Filters, 3-PK
ITEM: HA-04230G
In Stock
TrueAir 04230G Replacement General Purpose Filters, 3-PK. Eliminates odors, does not mask them. Specially formulated carbon filter traps and neutralizes common household odors. Breath easier and fe...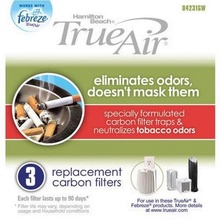 Buy discount and wholesale Hamilton Beach TrueAir replacement filters, TrueAir filters, Hamilton Beach air filters, Hamilton Beach odor eliminator, Hamilton Beach replacement air filters and more. At Goodman's you'll find good products, good prices, and good service!