Kettles & Carafes
A kettle is a device used to quickly heat water for hot drinks, such as tea or coffee. Goodman's carries stovetop and electric kettles in a variety of materials and finishes.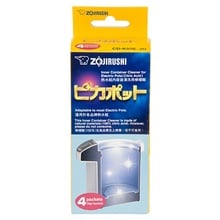 Zojirushi Cd-k03-eju Liner Cleaner for Pots
ITEM: ZO-CDK03EJU
In Stock
Zojirushi CD-K03-EJU liner cleaner for electric pots. This cleaner removes lime scale build-up on all Zojirushi Electric Water Boilers & Warmers. It is 100% citric acid, biodegradable and non-toxic w...
This department contains electric and stovetop kettles, electric kettles, tea kettles, electric water pots, and more. At Goodman's you'll find good products, good prices, and good service!