Oster Trimmers
Oster trimmers are designed for precise shaping and trimming. Oster trimmers, hair trimmers, cordless trimmers, travel trimmers, finishing clippers, finisher trimmers and more.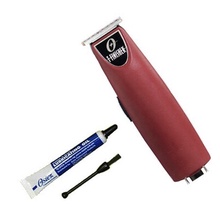 Oster T-finisher Hair Trimmer
ITEM: OS-76059-010
In Stock
Oster T-Finisher trimmer. Whisper quiet pivot motor offers more power than other trimmers making it fast and efficient. T-blade is designed for trim work around ears, neck, beard and mustache. Compact...
Buy discount and wholesale Oster hair trimmers, t-finisher, finish line trimmers, vorteq trimmers, trimmer hair, salon trimmers, barber trimmers, professional trimmer, pro trimmer, t- trimmer and more. At Goodman's you'll find good products, good prices and good service!