Braun Razor Cords
Genuine Braun power cord replacements for most Braun electric razors. Goodman's carries a complete line of Braun electric razor power cords, flex XP, XP II power cables, pulsonic 9000, 5441, 7505, 7526, 7570 and more.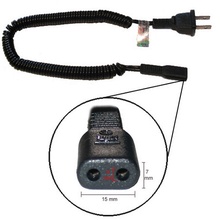 Power Cord, Fits Electric Shavers and Electric Razors
ITEM: CO-SHV
In Stock
Electric razor and shaver cord. Fits many Braun and Norelco razors. Will not fit the new Norelco 6000, 7000 and 8000 series razors or the new Braun 7000 Syncro razors. Also fits many Norelco and Braun...
Buy discount and wholesale Braun power cables, replacement power cables, shaver power cables, razor cables, power cords, power supply, electric razor cables, shaver cables and more. At Goodman's you'll find good products, good prices and good service!