Cuisinart Food Processors
Shop for high-quality Cuisinart food processors and reduce your prep time in the kitchen. Goodman's carries a complete line of Cuisinart kitchen food processors, professional food choppers, Cuisinart prep food processors, mini food processors, 11 cup food processors, 7 cup processors and more.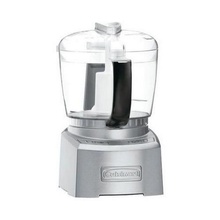 Cuisinart Ch-4dc Elite 4-cup Chopper/grinder, Die Cast
ITEM: CU-CH4DC
In Stock
Cuisinart CH-4DC Elite 4-cup chopper/grinder, die cast. More convenient than ever, the Cuisinart Elite Collection 4-Cup Chopper/Grinder effortlessly handles a variety of food preparation tasks such a...
Buy discount and wholesale Cuisinart stainless steel food processors, ounce food processors, prep-plus food processors, food Cuisinart, food chopper and more. At Goodman's you'll find good products, good prices and good service!