Mirro Pressure Cookers & Canners
In a hurry to prepare dinner? You can cut cooking time of your favorite foods by as much as 70% while retaining healthy nutrients with Mirro pressure cookers. Goodman's carries Mirro pressure cookers, pressure canners, steam cookers, steam canners and more.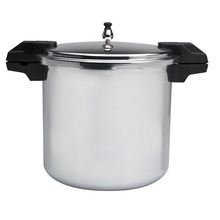 Mirro 22 Quart Aluminum Pressure Cooker and Canner
ITEM: MI-92022
Out Of Stock, Pre-Order Now!
Mirro 92122A, 22 quart aluminum pressure cooker and pressure canner. 5 year warranty. Cuts cooking time up to 2/3. Heavy duty aluminum body. Tight sealing cover gasket. Safety over pressure plug. Aut...
Buy discount and wholesale pressure canners, steam cookers, pressure steam cookers, 22 quart pressure cookers, aluminum pressure cookers, canning autoclave and more. At Goodman's you'll find good products, good prices and good service!