Ball Canning Salts, Mixes, Etc.
Home canning is not complicated. It is a simple procedure of applying heat to food in a closed jar in order to interrupt the natural decaying that would otherwise take place. It requires "processing" or "heat processing" foods according to up-to-date, tested home canning guidelines. Proper home canning includes: placing prepared food in Ball brand or Kerr brand home canning jars which are then sealed with Ball brand or Kerr brand two-piece vacuum caps, heating the filled jars to the designated temperature using the correct type of canner for the food being processed, processing the filled jars for the required time as stated by an up-to-date, tested recipe in order to destroy the spoilage microorganisms and inactive enzymes, and cooling jars properly, allowing the lids to vent excess air from the jars to form a vacuum seal. Goodman's carries a large selection of Ball mixes, Salsa mix, Italian canning mix, tomato canning mixes, home canning mixes, canning salt and more.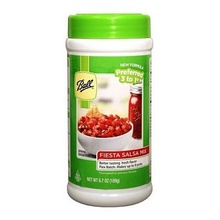 Ball 72105 Flex Batch Fiesta Salsa Mix, 6.7 Oz. Bottle
ITEM: BL-72105
In Stock
Ball 72105 flex batch fiesta salsa mix, 6.7 oz. bottle. Better tasting, fresh salsa is simple to make with Ball Brand Fiesta Salsa Mix. Simply add fresh, vine-ripened or canned tomatoes, and mix with...
Buy discount and wholesale Ball canning salt, home preserving mixes, Ball pickle salt, canning mixes, pickling mixes, Ball mixes, kosher pickling mix, Ball produce protector, Ball salsa mix, preserving salt, home canning mix and more. At Goodman's you'll find good products, good prices, and good service!