Appliance Knobs
Find your replacement appliance knobs here at Goodman's. Goodman's carries Fitz All replacement appliance knobs, 1/2 inch half-round knob, D-shape knobs, broiler knobs, toaster knobs, fan knobs, selector knobs and more.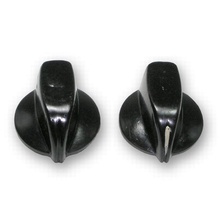 Fitz All 1345 Appliance Knobs
ITEM: FZ-1345
In Stock
Fitz All 1345 appliance knobs, package of 2 knobs. Designed for all types of appliances that use rotary control knobs. They fit all shafts up to 1/4" diameter, regardless of shaft shape, including r...
Buy discount and wholesale Fitz All knobs, replacement knobs, appliance knob, black selector knob, bakelite knobs, pointer knobs, 1/4 inch shaft knobs and more. At Goodman's you'll find good products, good prices, and good service!