Panasonic Shaver Cartridges
Keep your electric shaver working like new by replacing your Vortex HydraClean Shaving System cartridges. Panasonic Vortex HydraClean cartridges, cleaning cartridge, replacement cleaning cartridge, cartridges for electric shavers and more.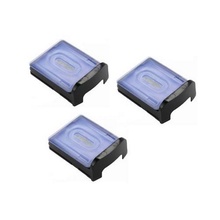 Panasonic Wes035p Vortex Hydraclean Cartridges
ITEM: PA-WES035P
Out Of Stock, Pre-Order Now!
Panasonic WES035P Vortex HydraClean cartridges. For all Panasonic Vortex HydraClean shavers systems including: ES8075, ES8076, ES8077, ES8078, ES8168, ES8167, etc. Package contains 3 cartridges (3 mo...
Buy discount and wholesale Panasonic electric shaver cleaners, cleaning cartridges, HydraClean cartridges, shaver cleaner, Panasonic razor cleaner, cleaning solution cartridge and more. At Goodman's you'll find good products, good prices and good service!