Presto MyPod Accessories
Presto mypod coffee filters are designed to be used with your Presto mypod coffee maker. Goodman's carries Presto mypod filters, replacement filters, new coffee filters and more.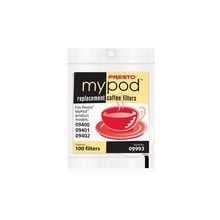 Buy discount and wholesale Presto mypod coffee maker filters, new coffee makers, coffee maker filter packs, mypod replacement filters and more. At Goodman's you'll find good products, good prices and good service!