Electric Shavers - Men
The electric razor (also known as the electric dry shaver) is a common electrical shaving device with a rotating or oscillating blade. The electric razor does not require the use of shaving cream, soap, or water. The razor is powered by a small DC motor, and usually has rechargeable batteries, though early ones were powered directly by house current. The typical major designs include the foil variety which uses a structure of layered metal bands that partially pull out the hair before cutting off the extracted length and then allowing the remainder to retract below the skin. The other design is the rotary type with circular blade structures, usually three in a triangular arrangement which has the same shaving function. Goodman's carries a full line of electric shavers by Braun, Norelco, Remington, Panasonic, Wahl, Grundig and more.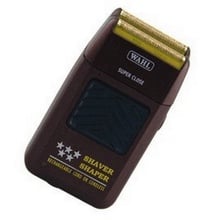 Wahl 8061 5 Star Electric Shaver
ITEM: WH-8061
In Stock
Wahl 8061 5 Star electric shaver. Deluxe rechargeable cord/cordless shaver. "Anti-allergic" gold foil takes beard down for a super-close, bump-free shave. Includes: shaver, recharger, cleaning brush...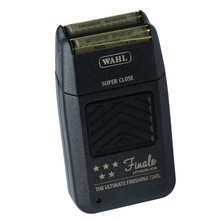 Wahl 8164 Finale 5 Star Electric Shaver
ITEM: WH-8164
In Stock
Wahl 8164 Finale 5 Star Finale Electric Shaver. Lithium-Ion Battery. 90+ minute run time. Rotary Motor. Runs cord/cordless. Hypoallergenic gold foil. Designed for: Finishing and blending bald fades, c...
This department contains men's electric shavers including Braun electric razors, Norelco shavers, Panasonic razors, Remington electric shavers and more. At Goodman's you'll find good products, good prices, and good service!