Oster Juicers & Juicer Parts
Citrus Juicers and Juice Extractors are so versatile that it makes it easy to incorporate healthy living into everyday life; be creative by using your Oster Juicer to not only make healthy drinks but to also create nutritious soups, sauces and desserts. Goodman's carries Oster juicers, juice extractors, electric juicers, healthy juicers, vegetable juicers, citrus juicers, juicer reamer, pulp extractor juicers, pulp free juicers and more.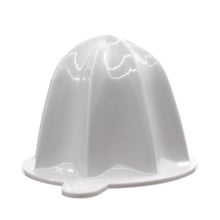 Univen Juicer Reamer fits Oster Juicers
ITEM: UV-86077
In Stock
This high-quality juicer reamer cone is the perfect tool to enhance your juicing experience, bringing out the natural flavors and nutrients from your favorite fruits.<br><br>Designed to fit Oster juic...
Buy discount and wholesale Oster home juicer, kitchen juicers, fruit juicers, electric citrus juicers, juicing machine, citrus reamers, fruit vegetable juicer, healthy juicers and more. At Goodman's you'll find good products, good prices and good service!