WaterPik Flosser

Waterpik Powerflosser FT-01UK Regular Flosser Tips 30 Pieces
ITEM: WP-FT01
Out Of Stock, Pre-Order Now!
These standard power flossing tips come in a pack of 30, ensuring you have a long-lasting supply to keep your teeth and gums in top condition. The two sleeves included make it easy to store and access...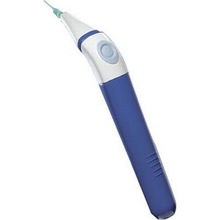 Waterpik Fla-220 Power Flosser With 15 Replacement Tips
ITEM: WP-FLA220
In Stock
This cordless flosser is clinically proven to be as effective as traditional string floss, but with the added convenience of being easier to use. Featuring 10,000 gentle strokes per minute, the Waterp...