Conair Skin Care & Nail Care
Turn you home into a spa with Conair's home spa products. Goodman's carries Conair facial care products, including the Conair facial sauna, electric facial cleanser, facial steamer, face steamer, face sauna, spa facial sauna and more.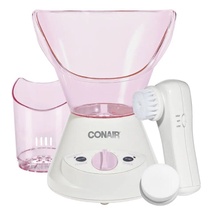 Conair MDF3R Facial Sauna System With Timer
ITEM: CN-MDF3
In Stock
Conair MDF3 Facial Sauna System with Timer. Treat yourself to luxurious spa treatments in the comfort of your own home. The Conair Facial Sauna System delivers a high quality steam facial paired with...
Buy discount and wholesale Conair facial products, electric cleanser, face scrubber, electric exfoliator, cleansing brush, MDF3 sauna and more. At Goodman's you'll find good products, good price and good service!