Waring Small Kitchen Appliances & Accessories
Waring professional expertise comes to today's home kitchens. Goodman's carries a large selection of deep fryers, waring juicers, juicer accessories, citrus juicers, juice extractors, cotton candy makers, popcorn makers, convection toaster ovens, waffle makers, wine openers, quart vacuum sealer bags, Waring gallon bags and more.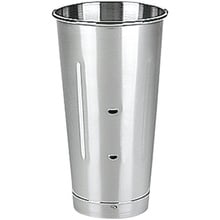 Waring CAC20 Polished Stainless Steel Malt Cup
ITEM: WA-CAC20
In Stock
This high-quality malt cup is designed to make your blending experience seamless and enjoyable.<br><br>Made with polished stainless steel, the Waring CAC20 Malt Cup is not only durable and long-lastin...

Waring 016129 Foot Ring for Juicers Black
ITEM: WA-016129
In Stock
Designed to perfectly fit your Waring Juicer model 6001, this foot ring offers unmatched stability and support, ensuring your juicer stays firmly in place during operation.<br><br>The sleek black desi...
Buy discount and wholesale Waring pro appliances, waffle makers, waffle press, electric wine openers, cordless wine openers, professional popcorn popper, home cotton candy maker, home deep fryers, stainless steel appliances, home juice extractors and more. At Goodman's you'll find good products, good prices and good service!