Mirro Food Mills
Mirro Foley durable stainless steel food mills are perfect for mashing, straining, grating and ricing making them ideal for nutritious food preparation. Goodman's carries Mirro food mills, kitchen food mills, kitchen mills, puree sieve, moulinette, mouli legumes and more.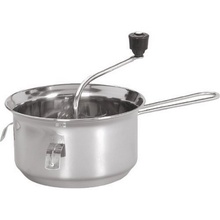 Mirro/foley 3.5 Quart Stainless Steel Food Mill
ITEM: MI-50025
In Stock
Mirro/Foley 3.5 quart stainless steel food mill. Stainless steel construction. Great for canning applesauce and mashed potatoes. Mashes, rices, and strains. Ideal for natural and healthy food preparat...
Buy discount and wholesale Mirro food mill, kitchen mills, applesauce mill, canning mill, food mill sieve, passe-vite and more. At Goodman's you'll find good products, good prices and good service!