Hair Flat Irons
A hair iron or hair tong is a tool used to change the structure of the hair with the help of heat. There are two general kinds: Straightening irons, used to straighten the hair, and curling irons, used to make the hair curly. Goodman's carries a variety of hair tools for curling, straightening, coloring and blow drying.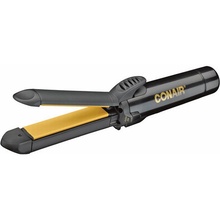 Conair Tc701 Pro Cordless Straightener, 3/4"
ITEM: CN-TC701
In Stock
Conair TC701 Pro cordless hair iron, 3/4". The Conair TC701 pro cordless straightener provides ultra high ceramic heat that smoothes and leaves your hair silky and shiny. at up to 419 degrees F, you c...
This department contains blow dryers, flat irons, curling irons, etc. from brands such as Solano, Elchim, Andis, Babyliss, Conair, HAI, Solis and much more! At Goodman's you'll find good products, good prices, and good service!