Hair Dryers
A blowdryer, also frequently called a hairdryer, is an electromechanical device designed to blow cool or hot air over wet or damp hair, in order to accelerate the evaporation of water particles and dry the hair. Blowdryers allow to better control the shape and style of hair, by accelerating and controlling the formation of temporary hydrogen bonds inside each strand. Goodman's carries a variety of hair tools for curling, straightening, coloring and blow drying.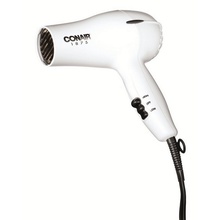 Conair 247VHN Hairdryer 1875 Watts
ITEM: CN-247NP
In Stock
Conair 247NP Hairdryer 1875 Watts. The Conair 247NP 1875 watt dryer is a lightweight and convenient hair dryer with an ergonomic handle for comfortable and safe use. With 2 heat and speed settings, yo...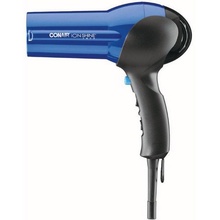 Conair 146NX Ion Shine 1875 Watt Ionic Hair Dryer
ITEM: CN-146I
In Stock
With 1875 watts of drying power, this full-size dryer is designed to provide efficient and fast styling, reducing the time spent on your daily hair routine. The innovative ionic device, featuring an o...
This department contains blow dryers, flat irons, curling irons, etc. from brands such as Solano, Elchim, Andis, Babyliss, Conair, HAI, Solis and much more! At Goodman's you'll find good products, good prices, and good service!