Tea Products
The traditional method of making a cup of tea is with loose tea placed either directly, or in a tea infuser, into a tea pot and pouring boiling (or very hot depending on the type of tea) water over the tea. Iced tea is a form of cold tea, often served in a glass over ice. Any variety of dry tea may be iced, according to one's tastes. All one has to do is brew the tea and then chill it. Goodman's carries tea infusers and iced tea makers.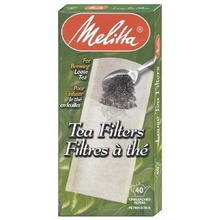 Melitta 61001 Tea Filter
ITEM: ME-61001
In Stock
These 40-pack natural color filters are specifically designed to elevate your tea drinking experience, ensuring a perfect brew every time.<br><br>Unleash the full potential of your favorite loose tea...
This department contains tea infusers and Mr. Coffee iced tea makers. At Goodman's you'll find good products, good prices, and good service!