Coffeemakers
While there are many different types of coffeemaker using a number of different brewing principles, in the most common devices, coffee grounds are placed in a paper or metal filter inside a funnel, which is set over a glass or ceramic coffee pot. Cold water is poured into a separate chamber, which is then heated up to the boiling point, and directed into the funnel. This is also called automatic drip-brew. Goodman's carries a full line of coffeemakers, automatic, stove top, percolator and urn models, by Braun, Cuisinart, Mr. Coffee, Krups, Bunn and more.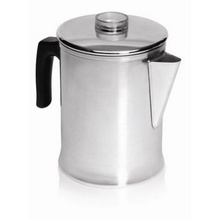 IMUSA GAU-00745 Aluminum Coffee Percolator 6 Cup
ITEM: IM-00745
Out Of Stock, Pre-Order Now!
IMUSA GAU-00745K Aluminum Coffee Percolator 6 Cup. Brews up to 6 cups. Stovetop percolator. Aluminum construction. Heats quickly and evenly. Tight fitting lid keeps liquid safe. Easy grip knob. Cool t...
This department contains a range of coffee makers, percolators, and coffee urns by Braun, Bunn, Cuisinart, Delonghi, Farberware, Krups, Mr. Coffee and more! At Goodman's you'll find good products, good prices, and good service!